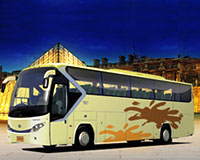 Reaching Pondicherry -
The French Riviera of the East
- is not a problem at all. It is well-connected to all the major cities and states of India through an extensive communication network. If you plan a vacation to this place, there are various feasible options for you to choose from; according to your preference, convenience and budget. In the following lines, we have provided information on how to reach Pondicherry
By Air
Chennai Airport (162km) is the nearest major airport from Pondicherry and is very well connected with the key states and cities of the country. International flights are also available from there. The other airports which are near by are the airports of Bangalore (296km) and Madurai (324km).
By Rail
Pondicherry has a railway station, though there is not enough connectivity from there. Villipuram (36 km) is the nearest railway station which connects to cities like Chennai, Madurai and Trivandrum.
By Road
The most favoured mode of transport to Pondicherry is via road. The journey is about three to three and a half hours from Chennai. The bus service is extremely efficient on this route- both ordinary buses and deluxe coaches. The roads are excellent from Chennai, and bus and cab services are also available from places like Thanjavur, Trichy, Chidambaram and Coimbatore.