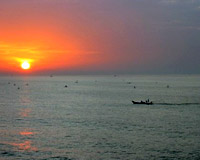 Location:
Coromandel Coast, Bay Of Bengal, India
Altitude:
Sea level
Summer Temperature:
40° C (maximum), 29° C (minimum)
Winter Temperature:
30° C (maximum), 24° C (minimum)
Average Rainfall:
1300 mm
Best Time to Visit:
December - February
Pondicherry's climate is typical of the climate of South India at large. The weather is hot and humid, but is bearable. Throughout the year, Pondicherry's weather is marked by the cool evening sea breezes that bring in great relief. Hence, cotton clothing is apt throughout the year. The best months to visit Pondicherry are from December to February.
Summer
The summer season begins in March and ends in July. During this period, Pondicherry has a hot and humid climate. The temperature routinely touches 40° C in May and June, but usually hovers around 21-34° C.
Monsoon
The monsoon on the west coast brings temporary relief towards the end of July and August which results in milder temperatures and occasional showers that may continue upto the month of October. The North East Monsoon in October through December brings cooler weather. The monsoon develops throughout this period, peaking in November with occasional quick tempered storm filling the streets for a day or so.
Winter
The winter season runs from December to February and is the best time to visit Pondicherry. The daily temperatures average around 30°C while the nights are pleasant and even cool.